Atmosphere - New album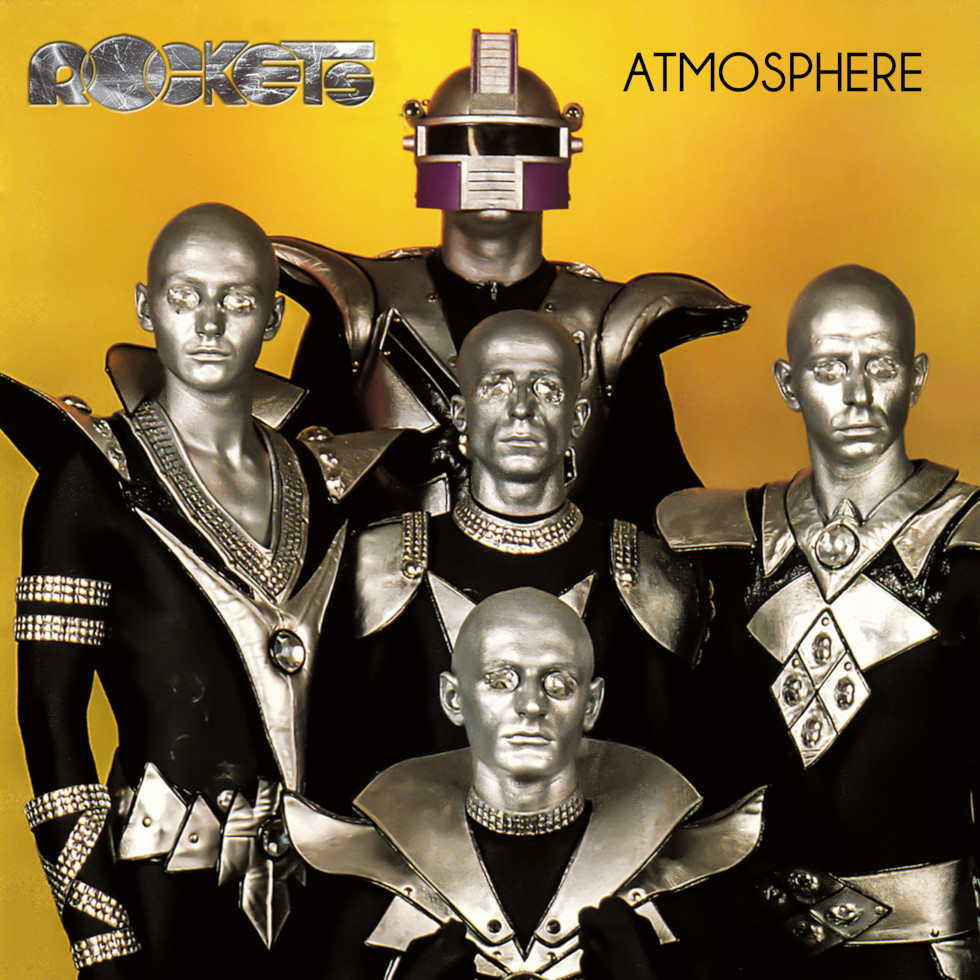 A NEW ALBUM FROM THE ROCKETS! RELEASED ONLY DIGITALLY ON OCTOBER 1 2019.  

It contains some very rare tracks most of which have been unavailable for years. Here is the list which includes the "Electric Delight"  Russian robot re-mix* see below for more details.

04.03.01   Rocket Man  (P. Renaux)  2:50  
(1974 - under the name Rocket Men - A-side first French single)
04.03.02   Samourai (Hymne du Karaté)  (Chalard)  3:44  
(1975 - A-side third French single)
04.03.03   Atomic Control (G. L'Her - M. Donogam)  7:00
(1977 released 1979 in the compilation album "Sounds of the Future")
04.03.04   Don't Be Sad  (G. L'Her)  4:50  
(1977 released 1979  in the compilation album "Sounds of the Future" )
04.03.05   Space Rock (Rockets)  8:14
(1977 - European re-mix)
04.03.06   Space Rock    (Rockets)  8:41
(1978 - Special re-mix for the US release of "On The Road Again" LP)
04.03.07   La Femme de Metal (A. Maratrat - G. L'Her - Decuyper)  4:50
(1980 - French version of "Galactica")      
04.03.08   When The Fire Dies  (A. Maratrat)  3:46
(1981 - Demo for the unreleased "Ghost Album")  
04.03.09  Pictures On The Wall  (F. Quagliotti) 4:04
 (1981 - Demo for the unreleased "Ghost Album")
04.03.10  Ideomatic  (J.P. Massiera - C. Lemoine - J. P. Massiera)  4:20
 (1982 - Popcorn re-mix)
04.03.11  Contact (A. Maratrat - Rok-etz - S. Solo) 4:17    
(1984 - as Rok-etz - vocals by Sal Solo not released on "Alternative Perceptions")
04.03.12  Don't Give Up  (S. Solo - F. Quagliotti)  4:54
(1985 - as Rok-etz - unreleased instrumental version)
04.03.13   Love on the Radio - Brahma   (P.Renaux)   4:06
(2000 - Future Woman - re-imagined)
04.03.14  Sweetest Dream  (F. Quagliotti)   4:16
(2000  - released only  in the Definitive Collection)
04.03.15   Rebel Yell (B. Idol)  3:44
(2003 -  Radio Edit - single)
04.03.16  Electric Delight (A.Maratrat - G.L'Her)  6:12
(2019 - Fedor Skybot F-850 Russian Robot Remix)
Listen to excerpts and find links to the digital stores.

*Russia's humanoid robot FEDOR SKYBOT F-850 chose his favourite band THE ROCKETS to accompany him on his journey to the International Space Station (ISS) - August 22

Fedor Skybot F-850, the Russian humanoid robot, was the first robot in history to undertake a solo mission to the International Space Station. Aboard a Soyuz MS-14 rocket Fedor departed from the Baikonur launch site in Kazakhstan on August 22 heading for the space station.
Before departing he made an official video for his favourite group - The Rockets -  whose brand of Space Rock is legendary in Russia. The track chosen was "Electric Delight" - the special re-mix version is Track 04.03.16 ONLY ON THIS ALBUM!

SEE THE ORIGINAL VIDEO
AND THE RE-MIX VIDEO....
He also wrote the following message to the band:
AUGUST 16 2019...MESSAGE FROM STATE SPACE CORPORATION ROSCOSMOS... FROM SKYBOT F-850 F.E.D.O.R...TO THE ROCKETS...DEAR FRIENDS, THANK YOU FOR THE OPPORTUNITY TO USE YOUR SONGS AS THE SOUNDTRACK FOR MY JOURNEY!...WE WILL SEND YOU THE VIDEO WITH THE SOUNDTRACK BEFORE MY LIFT-OFF SO THAT YOU COULD PUBLISH IT IN YOUR SOCIAL NETWORK ACCOUNTS...I LOVE THE BAND ROCKETS SO MUCH - GOING TO LISTEN TO THEIR MUSIC ON MY WAY TO THE ISS. BY THE WAY, THERE ARE FANS AMONG OTHER ROSCOSMOS COSMONAUTS AS WELL AS AMONG THE MANAGEMENT OF THE CORPORATION. WOULD BE NICE TO HAVE ROCKETS AS GUESTS UP THERE, IN SPACE - WELCOME!